What did the music promise you?
WHAT DID THE MUSIC PROMISE YOU?
The ones asking this, as did the oboe player from La voce della luna by Federico Fellini, are the musicians of the Postgraduate Specialist Courses in Music Performance – 3rd cycle (the only ones in Italy) of the Accademia di Musica di Pinerolo, young players who are studying with some of the most important teachers and soloists of our time, Maestros as Mischa Maisky, Pavel Gililov, Fabio Biondi and Pierre-Laurent Aimard. On the centenary of the birth of the great director and poet, Federico Fellini, the musicians' answer is loud and clear and it adapts to the new musical pandemic rites, that see live performances moving to the online.
13 CONCERTS IN WORLD PREMIERE ON FACEBOOK AND INSTAGRAM  
From the 21 April to the 29 May, with multiple events a week, at 19 o'clock on the  Facebook and Instagram profiles of the Accademia (@accademiadimusicadipinerolo), you will meet 13 concerts with the great music, from Bach to Rachmaninov, from Beethoven to Fabio Vacchi. Together we will enter in every musician's intimacy, listening to masterpieces essential for him also during the quarantine, and to his personal answer to the big, Felliniesque question which gives the name to the concert series. Every concert is opened by a historical and instrumental introduction on the repertoire.
THE POSTGRADUATE SPECIALIST COURSES  
The biennial courses in piano, contemporary piano, violin, viola, cello and guitar of the Post Graduate Specialist School in Music Performance are the only ones in Italy approved by the Ministry and are addressed to few, selected musicians, whose professional path is supported with the Pro Carriera project.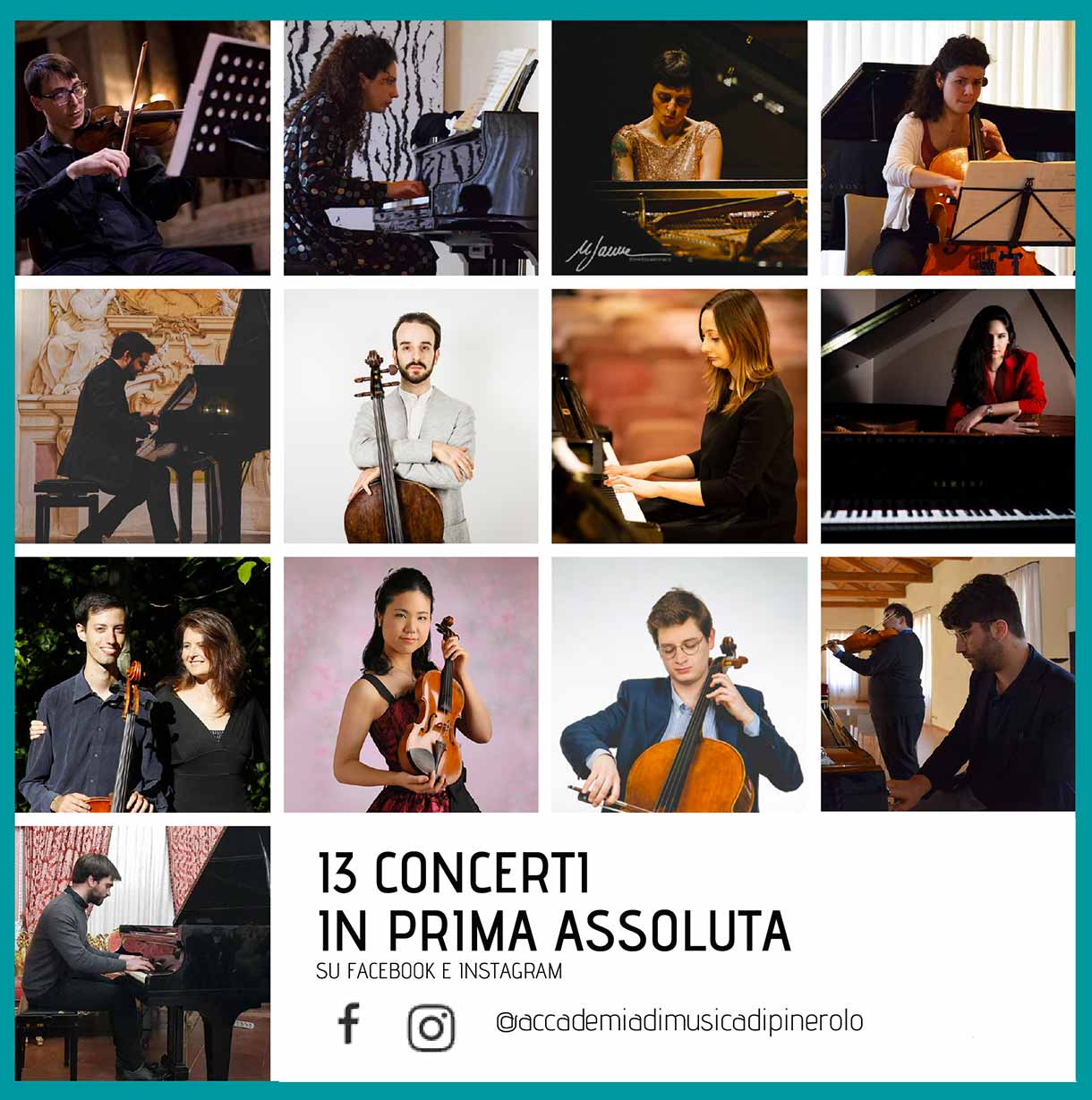 THE PROGRAM
21st April | h 19
Richiami e Rintocchi
Antonia Comito  piano
S. Rachmaninov, Non Allegro dalla Sonata n. 2 op. 36
24th April | h 19
Danzando tra i secoli
Gianluca Pirisi cello
J. S. Bach, Preludio dalla Suite n. 2
P. Cassadò, Intermezzo e Danza Finale dalla Suite per violoncello solo
J. S. Bach, Preludio dalla Suite n. 6
28th April | h 19
Preghiera
Luca Colardo cello
Sandra Conte piano
L. van Beethoven, Allegro con brio dalla Sonata op. 102 n. 2 per violoncello e pianoforte
O. Messiaen, Louange à l'Éternité de Jésus per violoncello e pianoforte dal Quatuor pour la fin du temps
4th May | h 19
Pianoforte Preparato
Roberto Martinelli forte
J. Cage, Tossed as it untroubled, In the name of the Holocaust e Primitive
6th May | h 19
Respiri
Stefano Raccagni violin
F. Vacchi, Respiri
8th May | h 19  
Voci di Storia
Umberto Giorgio Maria Scali piano
L. Janáček, Sonata 1.X.1905
11st May | h 19
Dediche e Passioni
Simone Ivaldi piano
R. Schumann, Introduzione - Un poco Adagio. Allegro vivace dalla Sonata n. 1 op. 11
13rd May | h 19
Eternità
Filip Szkopek cello
J. S. Bach, Preludio, Sarabanda e Giga dalla Suite n. 4 
15th May | h 19
Omaggio a Gorecki
Sofia Tapinassi piano
H. Gorecki, Sonata n. 1 op. 6 
19th May | h 19
Contrasti (Omaggio a Beethoven)
Roberta Pandolfi piano
A. Ginastera, Sonata n. 1 Op. 22
L. van Beethoven, Bagatella Op. 126 n. 5
22nd May | h 19
Incontri
Sawa Kuninobu violin
Tradizionale giapponese, Anta gata doko sa
J. S. Bach, Sarabanda dalla Partita n. 2
26th May | h 19  
Antichi Riflessi
Maddalena Giacopuzzi piano
D. Scarlatti, Sonata K27 in si minore
C. Debussy, Sarabande e Toccata da Pour le piano
29th May | h 19
Solo et Pensoso
Clara Védèche cello
G. Ligeti, Dialogo dalla Sonata per violoncello solo
J. S. Bach, Preludio dalla Suite n. 3
Z. Kodàly, Adagio dalla Sonata op. 8
PRESS RELEASE:
https://bit.ly/13concertionline
PLAYLIST ON FACEBOOK:
https://www.facebook.com/watch/accademiadimusicadipinerolo/1295264700670032/