A career in music: exclusive interview with Massimiliano Damerini
Defined by Süddeutsche Zeitung as one of three greatest Italian pianists of our era (together with Benedetti Michelangeli and Pollini), Massimiliano Damerini is considered one of the interpreters who is most representative of his generation. He has performed all over the world, playing as soloist with prestigious orchestras, and taking part in international festivals. He has twice won the Italian music critics' award, Premio Abbiati, is acclaimed as a composer, and has had many pieces for piano written expressly for him by internationally renowned composers.
Damerini tought  at the Accademia di Musica Massimiliano Damerini. As part of our section A Career in Music, we interviewed him to ask what advice he would give to our students, who are set to become the future generation of music professionals.
MY CAREER IN MUSIC: EXCLUSIVE INTERVIEW WITH MASSIMILIANO DAMERINI
KEY EXPERIENCES
What were the key experiences that marked your development and training as a musician? At what time of your life did they take place? Why were they significant?
At the beginning of my music studies, I had two exceptional teachers. The first was Alfredo They, pianist and teacher from Genoa, whose career as a concert pianist lasted from the 1920's to the 60's and who unfortunately passed away in 1969. I then continued my studies with Martha Del Vecchio, who was Dino Ciani's teacher, and also had lessons with Guido Agosti and with Sergio Lorenzi. I have had many important contacts with great musicians, which have naturally contributed greatly to my development as an artist. Regarding my training as a musician, I must mention the four years immediately after graduation which I spent working as accompanying pianist for the opera company. This gave me the opportunity to work with brilliant directors of opera like Molinari Pradelli, Bartoletti, Sanzogno, Gavazzeni and Patané, as well as with singers like Bergonzi, Kraus, Taddei, Cappuccilli, Bruson, Bacquier, Rossi Lemeni, Kabaiwanska, Cossotto ... From these great singers I learnt so much about phrasing and vocality! Of the pianists I heard perform live, of those who inspired and influenced my interpretation of music, there are four who set a standard of excellence for me. They were Arthur Rubinstein (the only one I never got to know in person), Sviatoslav Richter, Alicia De Larrocha and Leon Fleisher. The first time I heard Fleisher play, he performed the Concerto for the Left Hand by Ravel, with Bruno Maderna conducting - unforgettable. Years later, I told him that I was absolutely stunned by his performance.
TURNING POINTS
Can you describe one or two turning points in your career? What impact did they have on your career? Why were they important?
As I have just said in answer to the first question, right from the beginning of my career I had the good luck to meet renowned musicians: my friendship with Dino Ciani (who left us much too soon) enabled me to get to know Sciarrino and Bussotti, and from then on word spread that I was ready to take on and perform new compositions. As a result I found myself working with Berio, Petrassi, Donatoni, Nono, Gaslini, Ferneyhough, De Pablo, Hosokawa, Lachenmann, Carter, Penderecki, and so on, including a collaboration with Ennio Morricone. Besdes this, I had the truly great opportunity to grow professionally by working with music legend Cathy Berberian, and to perform in duos with Dorothy Dorow, with clarinetist Eduard Brunner, with cellist Michael Flaksman, and with flautists Gazzelloni and Fabbriciani (I have played together with Fabbriciani for 40 years!), etc. My meeting with Leonard Bernstein (choreographer Lorca Massine introduced us) was a moment of revelation for me. He immediately invited me to come to all his rehearsals while he was in Italy, and I really don't think I need to explain how much I learnt from this charismatic genius. An experience that changed my life.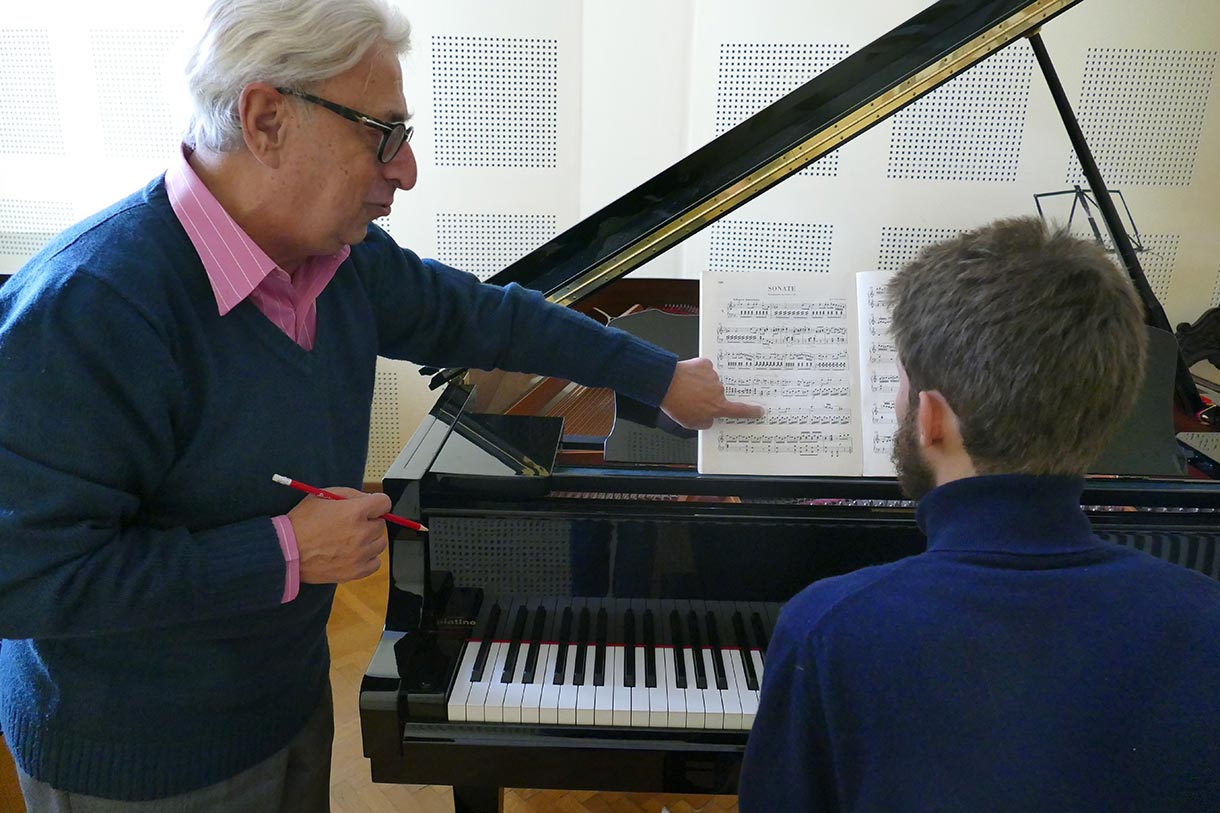 MISTAKES
Often our mistakes teach us important lessons. If you could go back in time in your career what would you do differently?
It's absolutely true that we learn from our mistakes. From a very young age I had the ability to sight read very quickly, and that was very helpful to me both in interpreting contemporary scores, and in my years as accompanying pianist for the opera theatre, where I had to accompany dozens of auditions for singers, reading on sight whatever aria they presented me with. The risk I ran was of not taking the time to study the music in depth. Over the years I have become the complete opposite: for example, I first performed Second Piano Concerto after studying it for 42 years, because I didn't feel that I was quite ready. Today, I never play anything for an audience until it has passed my own ferociously severe critical process. Obviously, the way I play today is different from what it was so many years ago, but that's normal. When we play we also unconsciously transmit all our lived experiences. However, I don't feel that I can condemn as "wrong" all the work I did when I was young: in the end, it was an integral part of my growth as a musician. There is one point I would like to make, however. I have been hugely involved in contemporary music, have had many compositions written for me, have performed 200 world premieres of new pieces, and I am myself a composer But when I have "re-read" the music from the past, using the "magnifying glass", the close analysis, that we employ when studying the music of today, I have discovered an incredible number of hidden details, even in the most famous pieces, where I thought I had understood, if not all the features, at least the majority of them. Going back over the music from the past, using parameters different from those of a good melody or fine harmony, opens your mind out incredibly. But certainly I have also made other kinds of mistakes. The most painful involve the betrayal of trust by people who I had believed in. But this too is a part of life, and if you don't face up to these problems, you don't grow up.
HOW TO STAY FOCUSED
Along a musician's career path there are always many important decisions to be made and these often depend on and result from the opportunities that are offered to them. What helped you to stay focused and not to lose sight of your goals?
I try, as far as possible, to have a clear idea about what I want to do next. Setting goals and trying to reach them, or get as close to them as possible. In actual fact, in real life I have "missed the boat" many times, in the sense that I have often been presented with unique opportunities that I wasn't able to exploit in the right way. I have an exceptional "anchor" that gives me stability: my family. A few months ago I celebrated my 45th wedding anniversary. By my side I have had a person (not a professional musician, by the way) who sees things in a more practical light and can advise me on the many, non-musical, problems that one meets in life: this has been fundamental for me and I could not do without it.
ADVICE
Apart from studying with great passion and dedication, what advice would you give to young musicians who are starting out on a career in music?
The most important advice I can give is never to lose your curiosity about the world around you. Do not limit yourself to just studying solo piano: play music with others, play chamber music, study at least the fundamentals of composition so that you can analyse any piece. And then expand your knowledge constantly, learning always learning: if you are studying Beethoven's Sonatas, you must also study the Quartets; if you are studying Schubert you must learn about his Lieder and chamber music. Today, you students have a tool that we did not have: YouTube. When I was a student, if I wanted to hear a particular performance I had to buy a record; now you can listen to any musician's execution, for free. But there is also another side of the coin: all this is purely academic unless you take part directly in the musical life around you. Go to concerts, and not only to performances by pianists! Listen to every kind of music: singing, different solo instruments, symphony orchestras, opera, contemporary pieces. And open your mind to the other arts. My mother was passionate about painting: from when I was 3/4 years old she took me to see art exhibitions and so I grew up with a love for art. Read books! Go to the theatre! Go and see movies! I used to be a cinema buff, though today I don't keep up with films with the enthusiasm of the past. My favourite directors were Bergman, Truffaut, Kurosawa, Fellini, Antonioni, Hitchcock and Welles – those classic films with shots that lasted forever. Today every shot lasts a couple of tenths of a second and this can give me a headache. However, I do still take an interest in contemporary cinema, the good and the bad.
__________________