Orchestra training: two concerts with Professione Orchestra
PROFESSIONE ORCHESTRA IN CONCERTO
Il sogno di diventare professore d'orchestra per un giorno, e di suonare al fianco di Maestri come quelli dell'OSN RAI guidati dalla bacchetta di prestigiosi direttori, anche quest'anno si realizza per otto talentuosi musicisti, selezionati tra i circa settanta iscritti all'edizione 2022/23 di Professione Orchestra, il percorso formativo professionalizzante nato sei anni fa dalla partnership tra l'Accademia di Musica di Pinerolo e l'Orchestra Sinfonica Nazionale della Rai.
Dopo il training on the job che li ha visti impegnati nel settembre scorso con lezioni di strumento e a sezione con le Prime parti RAI, dopo la tanto apprezzata simulazione di un'audizione e tre seminari per il miglioramento della performance artistica, grazie alle borse di studio hanno poi proseguito il loro cammino con lezioni di strumento e di musica da camera con le Prime parti, e il tanto atteso affiancamento delle prove d'orchestra delle produzioni Rai.
Il percorso si chiude ora con l'esibizione dal vivo su palchi di prestigio, tassello fondamentale nella formazione di ogni musicista.
La prima occasione di quest'anno è il concerto di domenica 14 maggio alle ore 18:00 presso l'Auditorium Rai 'Arturo Toscanini' di Torino che vede protagonisti sullo stesso palco l'Orchestra Sinfonica Nazionale della Rai e otto borsisti di Professione Orchestra: Alessia Scilipoti flauto (prof. Barletta); Gabriele Colombo oboe (prof. Patrussi e Pomarico); Lorenzo Di Ionna clarinetto (prof. L. Milani); Flavia Fazzi violino (prof. A. Milani); Alessandro De Feo violoncello (prof. Macrì); Claudio Minervini corno (prof. Bongiovanni); Davide Paludi tromba (prof. Braito e Rossi); Francesco Maffei trombone (prof. Di Mario). Sul podio è impegnato Alessandro Bonato. In programma la Sinfonia di Linz di Mozart, il Solo di trombone e contrabbasso da Pulcinella di Stravinskij e la Sinfonia n. 1 in do maggiore, op. 21 di Beethoven.
BIGLIETTI:
I biglietti, proposti al prezzo unico di 5 euro, sono in vendita online dal 14 aprile sul sito dell'OSN Rai e presso la biglietteria dell'Auditorium Rai di Torino. 
Scarica il programma di sala >>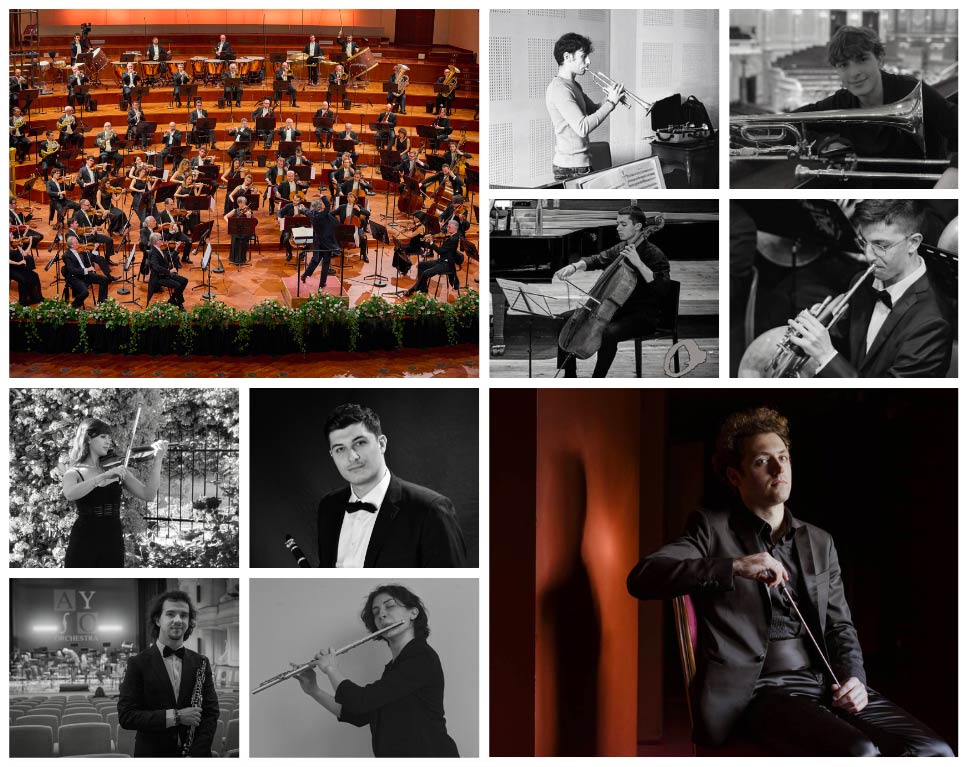 L'appuntamento all'Auditorium è seguito da un altro concerto dei borsisti a conclusione del training on the job di Professione Orchestra, di cui verranno resi noti luogo, orario e data non appena possibile. 
Il progetto è realizzato con il contributo della Fondazione Compagnia di San Paolo (Maggior sostenitore).