The Musica d'Estate summer camp experience
Musica d'Estate is just around the corner. Our summer camp for advanced music studies will be held in Bardonecchia in July and we have already received the first applications to take part in the masterclasses for piano, violin, cello and chamber music with internationally renowned musicians like Benedetto Lupo, Roberto Plano, Enrico Pace, Enrico Bronzi, Marianne Chen, Gabriele Carcano,  Trio Debussy, Giovanni Doria Miglietta, Tatiana Zelikman, Natalino Ricciardo, Claudio Pasceri, Adrian Pinzaru, Giovanni Puddu, Marina Scalafiotti, Sonig Tchakerian, Claudio Voghera, Daniela Carapelli and Laura Richaud, teacher and artistic director of the summer campus.
IN THE WORDS OF OUR STUDENTS
We decided to ask the students who have attended the courses in past years to give their own first person impressions of the summer camp. Every year around 180 young musicians study with us and perform in the free public concerts staged in the open air, in this magnificent mountain setting (altitude 1300 metres).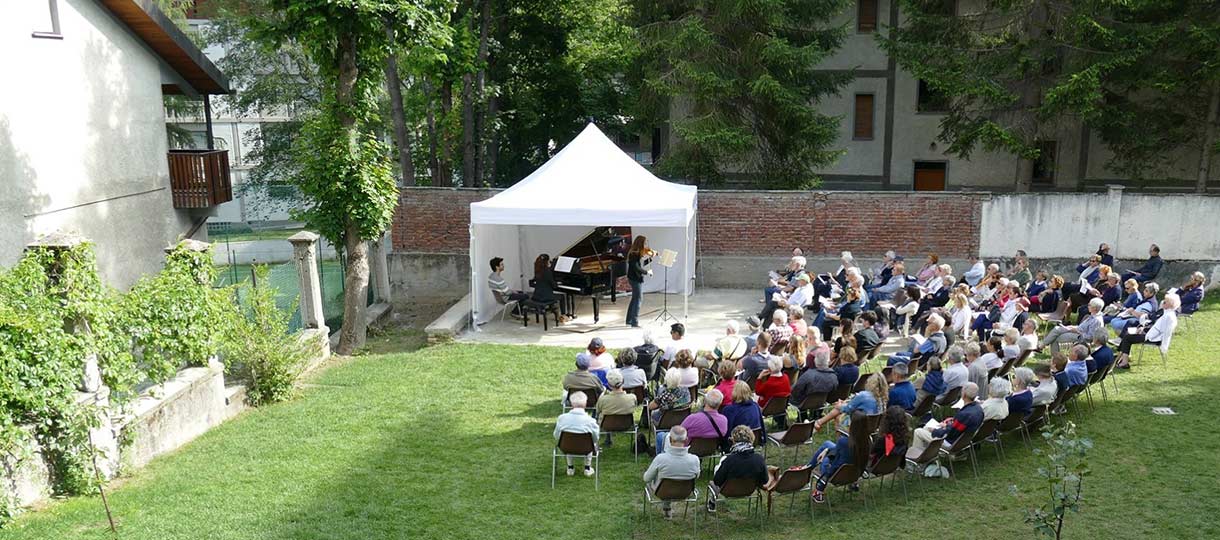 STUDENT IMPRESSIONS OF MUSICA D'ESTATE
Musica d'Estate has been a key experience

in my development as an artist. An opportunity to

work at a really advanced level

with some of the

greatest musicians on the Italian and international music scene,

to make new friendships and share music with others. All this in a wonderful, tranquil atmosphere, with the constant inspiration of the majestic mountains all around us

. (

Claudio Berra

)
"The masters course in Bardonecchia is always one of the high points of our summer. Days filled with music and friendship

, filled with lessons that are serious yet relaxed, days when we have fun and meet new people. We have had the opportunity to study with Trio Debussy, whose lessons are intense and stimulating and help us to lay down the framework for our repertoire for the following year. It is the ideal setting to get to know new teachers, to hear different opinions on music, and to have fun playing football, or billiards, or just hanging out and talking. Though of course, we make sure we never miss the superb concerts performed by the teachers

! (Trio Chagall)
"This is a moment of great uncertainty for everyone, and particularly for all us musicians, who have had to resign ourselves to the cancellation of all concerts and music teaching. So it is difficult to even imagine that summer courses could be organized. But I find it much more difficult to imagine a summer without music, and so I very much hope that the courses of Musica d'Estate in Bardonecchia will enable us to start up again. For so many years and for hundreds of students, these courses have been a key moment, marking the end of an entire year of study. Now we hope that for us they will be not a conclusion, but a new beginning". (Simone Ivaldi)
"A little corner of music paradise. Daily concerts, performed by renowned musicians as well as by young upcoming talents, wonderful lessons and music in the air at every moment of the day. Over the years, at Musica d'Estate I have always found that everyone was eager to share their experience of music. So, apart from the lessons, it's not unusual, during meals or leisure breaks, to hear the teachers present giving their students practical advice on their playing. And it's even more common to find that you are growing as a musician as you share and compare your own experiences with those of the other young people at the course. To sum up, great Maestros as teachers, excellent organization, the opportunity to perform in public, lasting friendships that spring up between young people who share the same passion for music, the magnificent mountains all around (a definite plus value): all these factors make Musica d'Estate an absolute must for anyone who wants to develop musically and personally". (

Simone Sammicheli

)
"A masterclass in Bardonecchia is not only a course that develops and improves your skills as a musician. It's so much more. You have the opportunity to listen to and to take part in concerts performed by young musicians. And these concerts are attended by the great musicians who are teaching the courses" (

Giovanni Crisantemi

)
"Being able to study again with Maestro De Maria was a great, a really great, learning opportunity for me. Bardonecchia offers so many things, but especially the chance to spend time with young people who share the same ambitions and the same ideals as me. It's fantastic to be with people who understand you. We have been able to create relationships based on mutual respect and trust that it's rare to find anywhere else. No competition, no rivalry – just a huge desire to learn, to love, to grow in music. I am certainly coming back!" (

Simona Manicone

)
"An opportunity to work with musicians of the highest calibre: this is the first reason why I would absolutely recommend the experience of this summer camp. And there is also the beautiful location, in the mountains, with wonderful walks that are so energising. There are frequent lessons, concerts performed by the teachers, all maestros of music, opportunities to perform in public, study rooms always available: all these factors make this course a great opportunity to grow as a musician. At this time, when Italy is in such great difficulty, when our future seems so uncertain, we must try to keep faith and not abandon our ambitions, because working at what we are passionate about could turn out to be the most effective treatment of all". (

Laura Cozzolino

)
"I am always so happy to come back to the masterclass in Bardonecchia, because in my opinion this course of advanced music training offers me a fantastic opportunity to meet and socialise with other young people who are serious and dedicated and share my own passion for music". (

Matteo Borsarelli

)
"I find it really hard, if not impossible, to sum up my experience in Bardonecchia in a few lines. For the last 6 years, in the month of July, for me time stands still, in cool mountain air that's filled with music and laughter. Of course, there's the studying and hard work, but the best moments are perhaps the time you spend with new and old friends, sharing your experiences, about music or life, staying up to talk together till 3 in the morning and then waking up the next morning and rushing off to practise at the Palazzo delle Feste building. Oh yes, because you've got your lesson with the Maestro, and you don't want to make a hash of it. But at the same time you just can't give up those nights just hanging out and having fun. Playing billiards together, talking about fingering, asking for advice or for someone to listen to a passage you can't get right. As musicians, we're used to the fact that our passion for music means spending long days shut up at home practising. But in Bardonecchia it's impossible to feel alone: you're always surrounded by music and people". (Gianmarco Moneti)
"I have great memories of the time I've spent in Bardonecchia, at the Masterclasses of the Musica d'Estate summer campus. Apart from the place in itself, with incredible views of the mountains and pleasantly low temperatures, in my opinion the courses are organized very well. We students have the opportunity of being heard by renowned Maestros and concert performers, of improving our skills as musicians and of playing in concerts. The most important thing is that during these public performances we have the chance to hear other young musicians and compare our work with theirs.

 

There are always lots of people in the concert audiences, because every year the people of Bardonecchia are always very happy to find that we are back again, frien ready to play for them throughout July. This means that every year we succeed in communicating directly to them our message about the beauty and importance of music. One last thing ... every year new and lasting friendships are formed between music students at the camp. And there are so many moments of pure enjoyment, with moonlight walks and so on. I really hope to be able to attend the Musica d'Estate" summer camp in the years to come". (Gabriele Casciano)
"It's a wonderful experience of making friends and sharing music. You spend a lot of time together, listen to other students playing, practise hard and have lessons in a very relaxed atmosphere. And then there are the audiences at our concerts: often from an older age bracket, they enthusiastically attend every performance, braving the regular afternoon showers. Musica d'Estate. I'll be back again … and again ..." (

Matteo Buonanoce

)
"For me Musica d'Estate was a crucial point in my growth as a musician: the lessons I learned from my teacher were invaluable. And then there is the absolutely magical beauty of the mountains of Bardonecchia". (Alessandra Maglie)
"Musica d'Estate is a splendid opportunity to develop as a musician, an opportunity to have lessons with renowned musicians of the highest calibre and to meet and share this experience with many young people who share your interests.

 

The camp takes place in a wonderful atmosphere, where there is no sense of competition at all and so many intense moments of joy and friendship. I would absolutely recommend it to anyone who wishes to grow, both as a musician and as a person!" (Ilaria Brognara)
"For years now Musica d'Estate in Bardonecchia has been an unchangeable tradition for my summer. I have been coming here since I was very young (the first time I was 11), I have met so many people and learnt so much from my lessons. The camp lasts for six very intense days, filled with studying and practising, of course, but also with fun and happy times!" (Stella Golini)
INFO:
Applications for the 2021 masterclasses in piano, violin and chamber music by 14 June. For further information write to mde@accademiadimusica.it

Have you been a student at Musica d'Estate? Send us your comment. Write to paola.bologna@accademiadimusica.it