A career in music: exclusive interview with Emanuele Arciuli
One of the best known and acclaimed interpreters of 20th and 21st century music at an international level, pianist Emanuele Arciuli performs regularly for the most prestigious music organizations, from the Teatro alla Scala to the Venice Biennale, from Wien Modern - Musikverein to the Orchestra della Rai in Turin, from the Miller Theater in New York to the St. Petersburg Philharmonic Orchestra. He has played under eminent conductors, including Roberto Abbado, Juraj Valchua, Pinchas Steinberg and Dennis Russel Davies. Famous for his vast knowledge of the American repertoire and his interpretations, he often performs pieces that have been written expressly for him by some of the major American composers and works actively to raise awareness of modern music. He records for several labels and has written a number of books, which include Musica per Pianoforte negli Stati Uniti (Piano Music in the USA), published by Edt, and La bellezza della Nuova Musica (the Beauty of New Music), published by Dedalo. A professor at the Conservatory in Bari, Arciuli is also a frequent guest professor at many American universities.
At the Accademia di Musica Emanuele Arciuli teaches Advanced music course in contemporary music for piano and he is one of teachers of piano in the new Post-graduate specialist courses in music performance. As part of our section A Career in Music, we interviewed him to ask what advice he would give to our students, who are set to become the future generation of music professionals. 
MY CAREER IN MUSIC: EXCLUSIVE INTERVIEW WITH EMANUELE ARCIULI
KEY EXPERIENCES
What were the key experiences that marked your development and training as a musician? At what time of your life did they take place? Why were they significant?
A musician's key experiences usually occur when they are quite young because that time of your life is crucial for learning. At the Conservatory I had various teachers, but Michele Marvulli was a very strong influence, Then there was Leon Fleisher and lessons with Vincenzo Vitale, from the famous Naples school of piano. Naturally, the most important experiences took place after I had finished my academic training, both with the teachers I studied with, and, primarily, in the work I did alone. For instance, I had a great interest in contemporary music, 20th century music, so I wanted to study it seriously, but this meant I was forced to be my own teacher, and I learnt a great deal by myself.
TURNING POINTS
Can you describe one or two turning points in your career? What impact did they have on your career? Why were they important?
One key experience for me was discovering American culture. It wasn't an earth-shattering revelation, not at all. But it was a turning point and it gave my work as a musician a new direction and focus.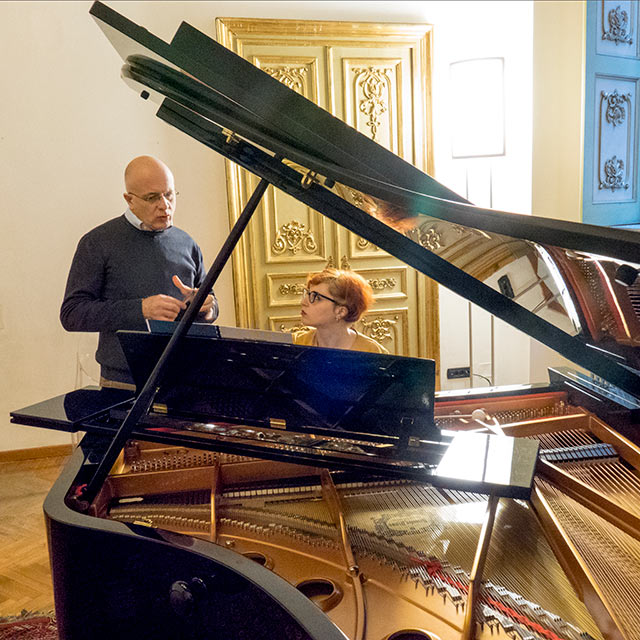 MISTAKES
Often our mistakes teach us important lessons. If you could go back in time in your career what would you do differently?
I would do so many things better! I would learn more English, I would study composition and, probably, I would make fewer decisions out of generosity and more based on self interest, which is something I didn't always do. I have made so many mistakes, allowing myself to be guided by people who were not always the best suited to me, not the right fit. Overall, there really aren't that many things I would do differently, because, in the end, doing things differently would mean that I would have taken other paths and therefore would have became another, different, person
HOW TO STAY FOCUSED
Along a musician's career path there are always many important decisions to be made and these often depend on and result from the opportunities that are offered to them. What helped you to stay focused and not to lose sight of your goals?
I have never been interested in the idea of a career, this word that we use now but that really does not appeal to me. What interests me is to carry out my projects and create my programmes. And to do this at the highest level possible, in the best way possible. It has never been my ambition to tour the world playing Chopin's 24 Studies. But I am interested in playing a meaningful role in the world of music, by stimulating the creativity of composers, for example, and working to arouse the curiosity of the general public.
ADVICE
Apart from studying with great passion and dedication, what advice would you give to young musicians who are starting out on a career in music?
My advice is to continue working as you are doing, to be patient. Don't think about the abstract idea of being a pianist; think about realizing your potential as a person.
__________________
INFO: