A career in music: exclusive interview with Andrea Lucchesini
Member of the Accademia di Santa Cecilia since 2008, Andrea Lucchesini is one of the most important pianists performing on the world stage. Trained in the renowned piano school of Maria Tipo, he has made many recordings and performs widely in concerts, working with major orchestras and famous conductors, including Abbado, Bychkov, Gatti, Harding, Noseda and Sinopoli. As well as playing in chamber music ensembles with other celebrated musicians, he dedicates his time to teaching and to promoting young musicians. Since 2018 he has been the Artistic Director of the Accademia Filarmonica Romana.
At the Accademia di Musica, Andrea Lucchesini teaches advanced courses in piano, holds masterclasses during the Musica d'Estate summer campus, and is also one of teachers of piano in the newPost-graduate specialist courses in music performance.  As part of our section A Career in Music, we interviewed him to ask what advice he would give to our students, who are set to become the future generation of music professionals.
MY CAREER IN MUSIC: EXCLUSIVE INTERVIEW WITH ANDREA LUCCHESINI
KEY EXPERIENCES
What were the key experiences that marked your development and training as a musician? At what time of your life did they take place? Why were they significant?
Certainly, the key factor was to be born into a family that lives and breathes music. My father was a musician of great talent, who had studied the trumpet at the Conservatory, and was a self-taught poly-instrumentalist. As well as the accordion, guitar, percussions and all the woodwind instruments, he played the piano and gave music lessons at home. He quickly realised that I had a gift for playing the piano and took me to the Conservatory of Florence where I had the amazing good fortune to be accepted into the class of the renowned pianist Maria Tipo, a very famous concert performer and a dedicated teacher. Thanks to her teaching and to the wise decisions she made for me, I was able to live a completely normal childhood, without being overexposed to public attention. I entered no more than one competiton a year, just to monitor my progress, took the normal Conservatory exams and studied composition. Of course, besides this I studied literature, figurative art, philosophy and theatre.
TURNING POINTS
Can you describe one or two turning points in your career? What impact did they have on your career? Why were they important?
One turning point was when I stood in for Maria Tipo in a recital in Paris: she couldn't play for health reasons and the day before the concert she put forward my name. It was for the most prestigious concert series at the Théâtre des Champs-Elysées and I was not even 18: the theatre was packed with people expecting a much-loved artist and on the stage they found a young boy. The organizers promised that anyone who wanted a refund on their ticket would receive it. But, actually, everything went very well, and this concert, together with the first prize I later won at the Concorso Ciani alla Scala, marked the beginning of my international career. Another turning point was my meeting with Luciano Berio, who, in 1991, asked me to perform his Concerto II "Echoing Curves" for piano and 2 instrumental groups at the PROMS in London, broadcast live on BBC radio. I had never before had such an intense experience with contemporary music, and I began a collaboration with Berio that taught me so much. Another important step forward in my career was playing chamber music, beginning with a performance in 1989 with cellist Mario Brunello, which led to a continuing and enthusiastic commitment. Initially, there was my participation in Incontri con la musica da camera, a concert series organised by the l'Unione Musicale di Torino, where, for 13 years and together with many brilliant friends, we explored the repertoire of great chamber music. In time chamber music grew to be an integral part of my identity as a musician.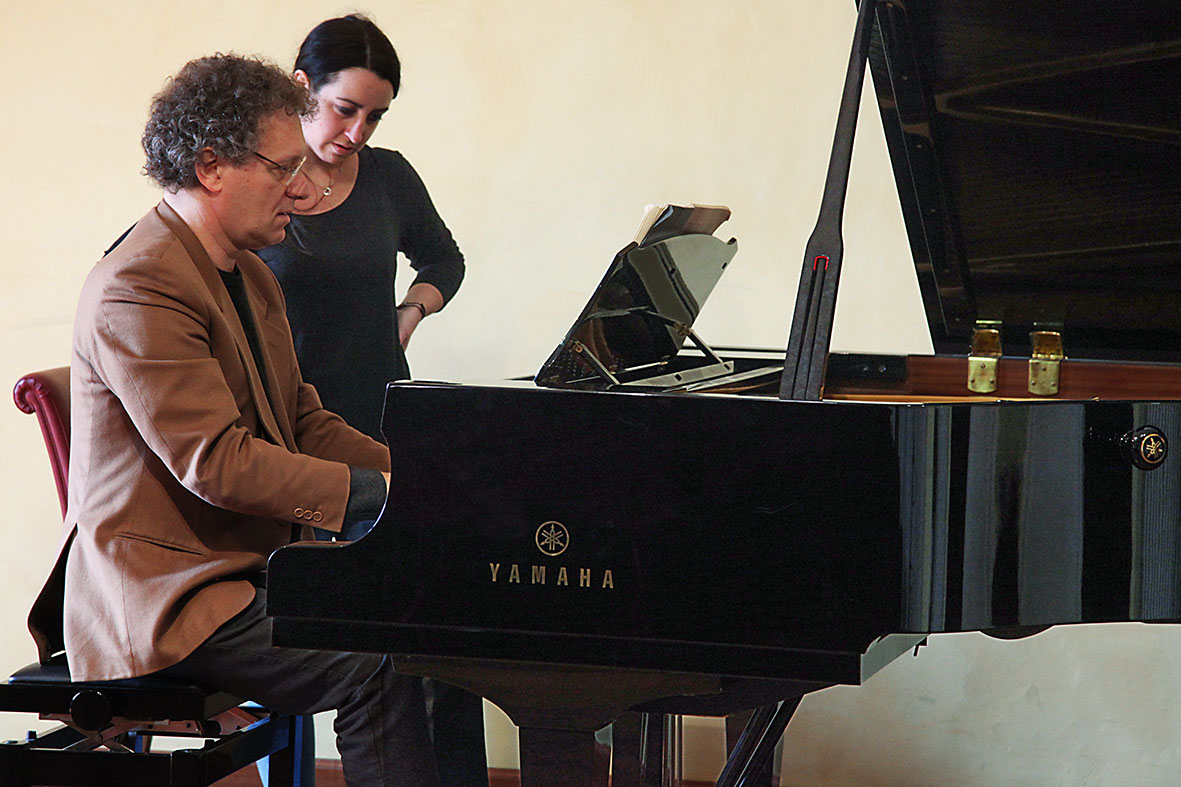 MISTAKES
Often our mistakes teach us important lessons. If you could go back in time in your career what would you do differently?
Of course I've made many mistakes. Because I was suddenly thrown into the world of concert performance and recording before I was twenty, with so many engagements that I had to continually make important decisions about concert programmes or collaborations with other musicians etc. And I was not always able to estimate accurately how far my energies would stretch, or perhaps I lacked the prudence to refuse offers that were really not suited to my sensibility as an interpreter at that time. Naturally I have travelled widely, but I was always ready to come home. That is why I have never considered the idea of a prolonged stay abroad, which actually would have been a valuable experience.
HOW TO STAY FOCUSED
Along a musician's career path there are always many important decisions to be made and these often depend on and result from the opportunities that are offered to them. What helped you to stay focused and not to lose sight of your goals?
During the years I was studying music, I had absolute trust in the advice given by my teacher regarding my repertoire and the timing of exams and competitions. I also followed to the letter her advice that I should go regularly to the theatre and to concerts, which is absolutely essential, not only because it enables you to become familiar with musical works and interpreters, but it also enriches your life as a musician. In addition, I have always been convinced that it is right and honest to respect commitments already made, even when it means giving up an opportunity that is particularly prestigious. I believe that it is important to continue to learn and grow, to gradually deepen your knowledge and experience of all the aspects of the profession of musician. Over the years this has become increasingly multi-faceted, so that today a musician is often not only a performer and teacher, but also a promoter of culture in its broadest sense. I have tried to learn from the musicians I have met and every stimulus I have encountered, spurred on also by natural curiosity and an immense passion for my work. With the passing of time I have realised that it is possible to communicate through music, especially if you choose the composers that are more congenial to you. So I have chosen to work on pieces where I felt I could be more natural in my expression, even if it meant refusing a request to play other composers. Lastly, I believe that it has been an advantage to have the serenity of constant emotional support from my family, both my family of origin and the family I built as an adult. This has helped me greatly in my life as an artist, a life that consumes so much energy, demands tremendous selfcontrol and often involves moments of solitude.
ADVICE
Apart from studying with great passion and dedication, what advice would you give to young musicians who are starting out on a career in music?
Based on my own experience, I can say that it is important to trust in a teacher – if you feel a strong connection the moment you meet them – and to follow their advice on the path to follow, even if the results are not immediately evident Growth as a musician doesn't follow a straight line: you often pass through different phases, where it is crucial to have faith in the person guiding you. Filling up your CV with the names of dozens of teachers can lead you to lose sight of the purpose of the teacher/student relationship, which is lasting and complex and may be made up of very different experiences, but which in any case is very different from a "buffet" from which you pile up disparate pieces of information. To make music your profession today means that you need to have many different resources, from the point of view of technique but also, most importantly, of culture in the widest sense of the word. It's fundamental to have a knowledge of all the different areas of music. For example, you should know what is needed for a historically informed performance, learn about early music and play chamber music regularly, choosing performance partners with whom you can form a fruitful, longterm musical relationship. So be curious and not self referential. Be aware that the nature and structure of concert performance is not set in stone. As it changes over time, there will be a demand for performers who are interesting and imaginative, and who, above all, have something to say.
__________________
INFO: